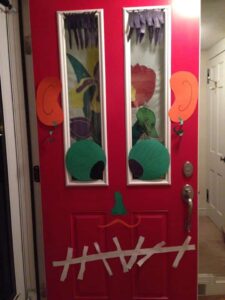 Looking for easy DIY ways to decorate your house for Halloween? Last night we spent about an hour and a half letting our creative juices flow to bring our front door to life. Our once friendly and inviting door has transformed in to a funny ghoulish monster that Bill's 12 year old daughter and I created. In my opinion, all doors have a character hidden inside them and as we started out, we let our monster take shape.
All we used was paper and tape. Here's what we did:
Eye lashes: I drew and colored black eyelashes. After cutting them out, I folded them about half way down to make them fluff up.
Ears: I cut out bean shaped ears, drew black lines on them for the inner part of the ear. We attached spiral cut pieces of paper for earrings on to the lobes.
Eyes: We started out with white plates and colored black pupils but the white didn't stand out enough for us. We then traced the plates on to green paper and cut out the circles. We cut out the pupils from the plates and attached to the green plates. Finally, we drew red lines on the eyes to give them an even creepier look.
Nose: Sarah actually Googled noses and then drew it on green construction paper.
Mustache: The mustache was an after thought. Originally the ears were cut too big to fit on the door. When I trimmed, the mustache was leftover and Sarah put it on her face. Woalah! Instant mustache for our monster.
Mouth: We cut strips of white paper and taped them together. If our door was a different color we probably would have made bright bubbly red lips but the white stapled mouth fits our monster perfect.
It was a lot of fun and we used resources we had around the house. The best part was we did this without cell phones, Internet, television… it was a bonding time as we brought our house to life for Halloween.
What are some of your ideas for easy DIY Halloween Decorations?